Before I begin…
Today is my 69th birthday.  I am embarking on my 70th year in this now rather wrinkly and saggy skin suit and still enjoying every day and relishing the pleasures of life on the Blue Planet.  However my working life as a teacher – which I loved – is now over.  I spend my time enjoying the company of nature, family and friends, reading and writing and making tiny, intricate models out of upcycled junk and discarded items.  No one needs such trifles, but the creation of them nourishes my soul and others get pleasure from them.
Because I can now lay claim to being 'old' in Earthly terms, I feel able to write what follows with a clear conscience.  These things would be far harder for a younger person to say.  It may shock and upset many, for which I am sorry.  That is not my intention.  I'm not being mischievously provocative.  I'd just like to encourage others to stop for a moment and consider what this virus is showing us and doing for us.
Are you able to pause, put aside the prejudices fed to you by media and gaze on the beauty and perfection of these organisms?  They have intelligence.  It enabled them to evolve this new, unique form.
Humans are quite ready to see this Covid-19 as a wicked, scheming adversary – one that will take all of our collective powers to defeat.  Could we instead see it as a benign, caring entity that looked with concern and compassion at our predicament and evolved to ease some of our most intractable problems?  A step too far for many, perhaps, but worth considering.
Pollution
Imagine, for a moment that we are discussing a wise and benign entity.  It sees the massive pollution rife in China.  It sees the pollution attacking the lungs of China's people – weakening them, lowering the quality of their lives, lowering their resistance.  Breath, after all, is life force, prana.  China knows this, regrets what is happening, but can't solve the problem.  Industry has taken control.  Profit matters more than quality of life.  Does it?  Corona Virus strikes and vast numbers of those people, their lungs already compromised by breathing in those poisonous fumes, are struck down.  China simply has to react.  It closes schools, colleges, factories…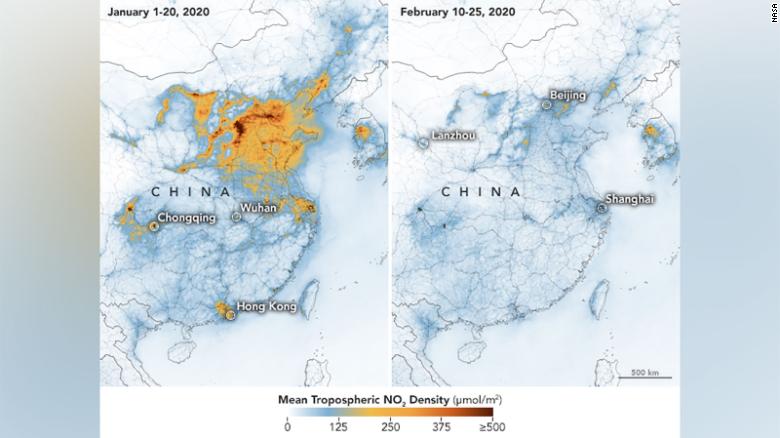 And this happens:
Photo taken by NASA of pollution levels over China this year.
Yes, many lives have been lost.  Death – like birth – is almost always a traumatic and messy affair.  It makes huge changes to the lives of those around the person concerned.  I know I am fortunate to believe firmly that my Self is eternal and this physical incarnation just a small – though important and fascinating – episode in its development.  I also believe that Self is able to choose the time of the personality's arrival and departure in terms of a human life.  I'm not saying (this is a tricky one to explain) that any victims of the virus decided at a conscious level to die.  I'm suggesting that at a higher, spiritual level, the entire entity decides on the correct time – for that being's evolution – to move on to another state.  At times of mass death, whether from a natural disaster, war, an act of terrorism or a disease, every soul concerned has – at that higher level – elected to move on.  Perhaps part of that decision is based on a desire to force those of us remaining to rethink certain aspects of life.
Will China return to its former levels of pollution?  It will be interesting to see.  Will there be a knock-on effect from this to other industrial nations?
Covid-19 is also affecting travel throughout the world.  I heard yesterday of a school in England requiring all staff to sign an agreement not to engage in any non-essential travel abroad.  Again, air travel is recognised as a major pollutant, yet foreign holidays have become an accepted part of life.  Is the virus holding this up to us for consideration?  Will we find alternatives and make changes to our lives?
Population and Age
This is the single most important factor that leads me to believe that the virus could be intelligent and benign.  We have an intractable problem in our world with the ageing population.  Doctors are able to keep people alive for longer.  This is generally considered to be a good thing.  However longevity takes precidence over quality of life.  It has to.  The alternative is unthinkable.  Thus – in my country, at least – many elderly people become increasingly weak and frail, needing to be cared for by exhausted relatives or in nursing homes.  They spend their final years relying on others to provide all their daily needs – even the most intimate ones – while they sit or lie helplessly waiting for the end.   I have watched, at very close quarters, both my parents and both my grandmothers finish their lives that way.  It is that – not death – that I dread.
Covid-19 is highly selective.  It infects all ages, but children recover easily.  Not until after the age of 50 is there even a 1% chance that it will be fatal.  Even then, only those with weakened immune systems or underlying heart/lung problems fall prey to it.  From age 70 onwards, the incidence of death becomes higher.  At 80 it climbs still more sharply.
Speaking as an old person, I welcome this.  I have no death wish, but there are things far worse than death.  Those lingering years, stripped of all purpose and dignity seem to me infinitely worse than a few days of fever, aches and pains and a bad cough.  Our scientists, doctors and politicians are powerless to change the problems caused by and for this ever-growing elderly population.  Perhaps the virus has arrived to rescue the situation – to humanely deal with those who would choose a quick and timely death.
The Sick and Vulnerable
Ah, but what of those who have weakened immune systems for other reasons – people who are ill but would soon recover or those with conditions requiring care in institutions?  They are vulnerable.  They should be protected.  Yet in my country we place them in hospitals where the essential work of cleaning and sanitising is given to people on zero hours contracts, people living in poverty, people who – if they become unwell – can't afford to take sick leave, or their families would have no food.  Thus the outrageous treatment of these vital workers may well cause the virus to spread around hospitals and other institutions.
Like China's pollution, these injustices have been brushed aside for economic reasons.  The Health Service is overstretched, we are told.  We simply can't afford to pay these people more.  Now, though, can we afford not to?
Certainly this strain of Corona Virus is harsh and uncompromising.  It is no respecter of sensibilities and traditions.  It is forcing every one of us to rethink multiple aspects of our lives.  And in many respects, perhaps that is no bad thing.